The Wisconsin Way pilgrimage, sometimes called the "Wisconsin Camino," connects spiritual shrines in Wisconsin. A network of wooded paths, country roads and scenic byways—similar to Camino routes in Europe—takes you into places where your life slows down. This beginner's guide to walking the Wisconsin Way gives suggested itineraries, information about where to stay along the way and a list of places to visit.
A Beginner's Guide to Walking the Wisconsin Way Pilgrimage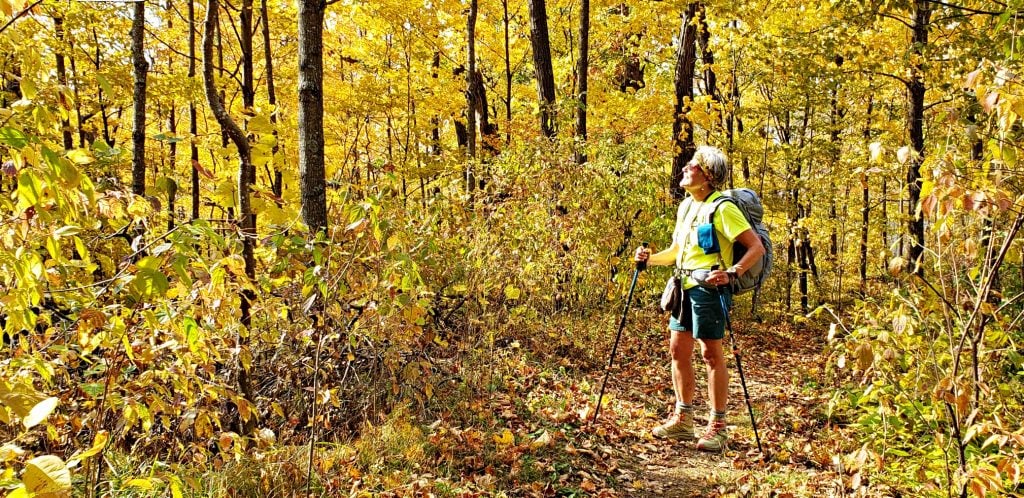 The Wisconsin Way pilgrimage is loosely based on the Camino de Santiago in northern Spain. The pilgrimage begins at the National Shrine of Our Lady of Good Help near Green Bay, Wisconsin. And just like with Spanish Caminos, you can walk as much or as little of the route as you wish.
Like Camino de Santiago, walk as much or as little of the route as time allows
On October 3, I started my Wisconsin Camino at the National Shrine and walked to Holy Hill near Milwaukee, Wisconsin. The length of my Wisconsin Way pilgrimage was about 140-miles/225 km. You could continue walking to the Shrine of Our Lady of Guadalupe in La Crosse for a total of about 400 miles. The  approximate 400-mile/644 km distance is also similar to the Camino Frances, the most popular of Camino de Santiago routes. Walking to shrines in Wisconsin offered so many unique pilgrim experiences—those little moments so dear to pilgrims—that I plan to go back and finish this "Wisconsin Camino."
Make sure to spend time in Green Bay before your pilgrimage, as I did. The Wisconsin city is the perfect place to provision, fill up on Wisconsin gastronomy and take a bucket list tour of Lambeau Field, Home of the NFL Green Bay Packers. There are plenty of things to do and see in Green Bay.
TIP: Because knives or hiking poles are not allowed in carry-on luggage on most airlines, I bought them online and had Amazon ship them directly to my hotel room. Easy peasy.
Provision in Green Bay for Your Wisconsin Camino
Thanks to Barb Spitzberger Sprangers, a Camino friend with an Etsy store who I met on Facebook this summer, for one of many Wisconsin Camino blessings. We enjoyed brunch at Green Bay's riverside CityDeck. I provisioned for my Wisconsin Camino at the heralded Voyageurs Bakery. Then Barb drove me from downtown Green Bay to Champion, WI, where the National Shrine is located. (About 25 minutes.)
Begin the Wisconsin Way at National Shrine of Our Lady of Good Help
Rain fell softly as I grabbed my backpack from the trunk of Barb's SUV. I simply followed the stream of strangers to one of the four buildings on the Shrine's campus that I could see from the parking lot. "What's happening here?" I asked a man handing out papers inside.
"It's Mass," he smiled. My eyes widened in shock. Could it only be 11 am? I made it to Mass—I'd expected that my arrival would be much later.
"Are you hiking?" he asked, eyeing at my pack.
"I'm starting my hike from here. I'm walking the Wisconsin Way pilgrimage."
"Oh, there are three people here who are doing the same thing. That's getting to be quite popular. They are the ones in the red hoodies," he indicated with what turned out to be church bulletins. It was kind of hard to hear him through his COVID mask.
"Oh good," I thought, "Pilgrims!" My pack felt pleasingly light as I totted it into the sanctuary. I chose to sit in the same row as the pilgrims who'd lettered their hoodies with "The Wisconsin Way – Pray with Mary, Walk with Jesus."
The Only Marian Apparition Site in the US Approved by the Catholic Church
The pilgrims paid no heed, so I turned my attention to the front of the simple country church. One piece of decoration caught my eye. A lovely stained glass of Mary, the mother of Jesus, appearing to a young immigrant woman dressed in black. That happened back in 1859, and the apparition, as it is called, is the reason that the Shrine is here. In fact, the National Shrine of Our Lady of Good Help is the only Marian apparition site in the United States approved by the Catholic Church.
Fr. Andrew Kurz, the founder of the Wisconsin Way
When it came time for the Eucharist, a familiar face caught my attention. Fr. Andrew Kurz, the founder of the Wisconsin Way, was one of the priests presiding over Mass. My second shock of the morning. I forgot that Father Kurz had messaged me that he would be at the National Shrine of Our Lady of Good Help for the service. I'd totally erased it from my mind after calculating that I couldn't possibly make it by 11 am since I was meeting Barb for brunch. Amazingly, the Lord had other plans for the start of my Wisconsin Camino.
Surprises like this are the positive side of having a brain injury. I should note that I did not partake in communion as I am not Catholic, although I am blessed by many Catholic traditions and prayer practices, including praying with Mary and walking with Jesus.
After Mass, I introduced myself to the three pilgrims. I was so happy that my pilgrimage had barely started, and I already had fellow pilgrims. Unfortunately, Paula, Marcia and Lynn were taking an alternative route to the west of my course.
Few established pilgrim accommodations on the Wisconsin Way
You see, the Wisconsin Way is less supported than the Camino de Santiago. There is only one albergues or established pilgrim accommodations along the way unlike in Spain. Therefore, the pilgrim must do some prudent planning before setting off. So in that way, the Wisconsin Camino is more like Les Chemins de St Jacques (The Roads of St James) in France.
Where you find overnight accommodation will dictate your route between the shrines in Wisconsin.
The three ladies were going to spend the night in their RV in the parking lot of St. Thomas, the Apostle Catholic Church in Humboldt.  After I spent time praying in the crypt at the National Shrine of Our Lady of Good Help, I started off towards the Wisconsin Way Albergue. Pray with Mary – Walk with Jesus.
More about that in the DAY ONE itinerary below.
Types of accommodation on the Wisconsin Way pilgrimage
On the Wisconsin Way pilgrimage pre-planning is key. Types of accommodation that you must reserve or acquire before you leave home include:
Backpack tent—you could carry a backpack with tent, sleeping bag and cooking supplies and camp at the numerous campgrounds along the way. You could get permission to camp in a farmer's field or churchyard in places with no campgrounds.
RV camper—My three pilgrim amigas slept in a camping caravan. To get the camper to the end of the stage, Marcia walked half the day's journey with her fellow pilgrims. She then turned around and walked back to the RV. The servant pilgrim then drove it to the place where they planned to rendezvous at the end of the section. This takes preplanning to get permission to camp in churchyards or procure reservations in campgrounds.
AirBnBs—Make reservations as early as possible, maybe months in advance if using AirBnBs. I tried to reserve one month in advance, but others had already booked ahead of me.
Hotels—I found few hotels along the Wisconsin Way. If you had someone driving a support vehicle, you could go to hotels in nearby towns. I like to use the map feature on Booking.com to find the hotels and motels nearest to shrines in Wisconsin.
Churches—If you feel comfortable, you could call parish offices of Catholic churches, or church offices of your denomination of choice, to ask if you could stay at the rectory or with members of the parish. Some churches may have hospitality ministries.
Albergues—Currently, you'll find only one traditional pilgrim hostel—called an albergue in Spanish—on the Wisconsin Way pilgrimage route. However, God's people will develop more as the Wisconsin Camino becomes more popular. The brand-new Wisconsin Way Albergue, outside Luxemburg, WI, sleeps 12 in comfortable bunk beds and offers a full kitchen and showers.
Monastery—Pilgrims are welcome to stay at the Holy Resurrection Monastery in St. Nazianz, WI. We recommend donations of $60 per person that includes dinner and breakfast.
So an important thing to note is that while most pilgrims get to all of the shrines and holy hot spots along the way, they may take different paths to get there. I will share my walking route and itinerary later in this blog post.
10 Wisconsin Shrines and Spiritual Hotspots on the Wisconsin Way Pilgrimage
"Pray with Mary and Walk with Jesus," the slogan of the Wisconsin Way, points to a Marian focus to the pilgrimage. The major shrines and spiritual places along Wisconsin Way pilgrimage are:
• National Shrine of Our Lady of Good Help—Champion, WI
• Curran Spirituality Center—Curran, WI
• Carmelite Monastery—Denmark, WI
• Holy Resurrection Monastery—St. Nazianz, WI
• Steinthal Chapel AKA Mary Queen of Our Hearts—Steinthal, WI
• Saint Matthias Church—Kettle Moraine State Forest, Campbellsport, WI
• Holy Hill Basilica —National Shrine of Mary, Help of Christians — Hubertus, WI
Holy Hill was the endpoint of my Wisconsin Way pilgrimage. But you could continue onward to these other shrines in Wisconsin:
• First Schoenstatt Shrine to be built in the USA—Cottage Grove, WI
• Our Lady of the Oaks—Indian Lake State Park, Cross Plains, WI
• Shrine of Our Lady of Guadalupe —La Crosse, WI
Of course you'll encounter your own "spiritual popups" in the forests, fields and chapels as well as around the dinner table with people you meet along the way.
Wooded Trails, Byways Similar to European Caminos | Comparable Food, Too!
These shrines in Wisconsin are connected by a network of wooded paths, country roads and scenic byways similar to the Camino routes in Europe.
The Wisconsin countryside is rich with trail systems—the state has repurposed many railroad corridors into walking trails. For example, the trail systems that I walked as part of the Wisconsin Way were:
The Ice Age National Scenic Trail – an app is available for this 1200-mile trail system at Atlas / Guthook Guides.
The Ahnapee State Trail
Local Foods Reminiscent of European Country Fare
In addition, homegrown cheese and butter for which "America's Dairyland" is so famous, vineyards producing local wines and the local butcher shops with fresh sausages and charcuterie are reminiscent of European country fare. Wisconsin is also renowned for its Friday Night Fish Fry, so make sure you partake in the local tradition.
My Route along the Wisconsin Way Pilgrimage: Wisconsin Camino Itinerary
As I said before, pilgrims take different paths to get to the shrines and spiritual places along the Wisconsin Way pilgrimage. So keep in mind that you need to plan out your walking route in relation to where you find places to spend the night.
My route is only one way to walk the Wisconsin Way pilgrimage. (Click each link to see the sights along each stage of the Wisconsin Camino.)
The part of the Wisconsin Way that I completed has three sections: the farm section, the forest section and the Holy Hill section.
The Farm Section of the Wisconsin Way
DAY ONE: National Shrine of Our Lady of Good Help, Champion, to Wisconsin Way Albergue, Luxemburg
10.2 mi/16.4 km, 3h 20m
DAY TWO: Wisconsin Way Albergue to Parallel 44 Winery
11.9 mi/19.2 km, 3h 53m
DAY THREE: Stangelville to Cooperstown
13.2 mi/ 21.24 km, 4h 18m
DAY FOUR: Cooperstown to Whitelaw
13.8 mi/ 22.2 km, 4h 31m
DAY FIVE: Whitelaw to Holy Resurrection Monastery, St Nazianz
14.6 mi/ 23.5 km, 4h 47m
The Forest Section of the Wisconsin Camino
DAY SIX: Holy Resurrection Monastery to Glenbeulah
24.8 mi/ 39.9 km, 8h 5m (This stage was too long. I recommend that you stay at Christi's Inn in Elkhart Lakes.)
DAY SEVEN: Glenbeulah to Dundee
14.9 mi/ 24 km, 4h 55m
DAY EIGHT: Dundee to New Fane
10 mi/ 16 km, 3h 16m
DAY NINE: New Fane to Slinger
22.1 mi/ 35.6 km, 7h 15m (Another long day that could be cut shorter by a stay in West Bend.)
DAY TEN: Zero-day in Slinger with side trip to historic St Matthias Church in the forest
The Holy Hill Section of the Wisconsin Way pilgrimage:
DAY ELEVEN: Slinger to Holy Hill
9.8 mi/ 15.8 km | 3h 19m
Conclusion: The Wisconsin Way Pilgrimage
After I completed the above three sections of the Wisconsin Way pilgrimage, I told my husband, Dan, that I would definitely do it again. The scenery was spectacular, the regional food and wine was impressive and the way afforded plenty of spiritual encounters. 
This is a beginner's guide, because I have just stuck my toe in the water of this spiritual journey. I would like to thank my many Wisconsin friends who helped me plan, gave me shuttle rides, fed me, housed me, or offered friendship and kindness. 
I hope that this guide is one way to give back to those who made my pilgrimage possible.  As a veteran Camino de Santiago pilgrim, I recommend the Wisconsin Way as an American pilgrimage route and alternative to European Caminos. I hope to return to Europe someday, but until COVID has lessened its grip on travel, the Wisconsin Way will continue to satisfy my soul.
Keep me in your prayers as I write a guidebook that you will be able to download on Amazon, or order as a paperback. In the meantime check out my other guide books on Amazon:
Spiritual and Walking Guide: León to Santiago on El Camino 
Spiritual & Walking Guide: Lourdes to St Jean Pied de Port, France 
Jakobsweg Spiritueller Reisefuhrer: León to Santiago 
Grand Canyon Tour – Insiders Secrets: A Self-guided Pictorial Driving Tour 
Santa Fe, New Mexico Walking Tour: A Self-guided Pictorial Tour 
New Mexico's Bandelier Walking Tour: A Self-guided Pictorial Sightseeing Tour 
Camino Primitivo Guidebook: Pilgrim Guides: Villaviciosa-Oviedo-Melide 
As is common in the travel industry, UNSTOPPABLE Stacey was provided with accommodations, meals, and other compensation for the purpose of the Green Bay portion of this guide. While it has not influenced this review, the Arizona travel writer believes in full disclosure of all potential conflicts of interest.
In addition, this blog, UNSTOPPABLE Stacey Travel, contains affiliate links. If you make a purchase through these links, Stacey earns a commission at no extra cost to you. These commissions help reduce the costs of keeping this travel blog active. 
Further, as an Amazon Associate I earn from qualifying purchases. Thanks for reading.
Enjoy this article? I'd love to hear your thoughts in the comments section below. Please share this article with the red- and blue-colored social media buttons.
To get more FREE travel tips and inspiration, simply subscribe below and updates will be delivered directly to your email inbox.